Gadgets
Published on May 16th, 2013 | by Rich Bishop
0
What's new with Google?
So… what's new with you, Google?
ToTheCrowd focuses on "Gadgets" rather than "Tech" and so a lot of Google I/O 2013 isn't all that exciting. The biggest announcement gadget wise this year (so far) has been a Samsung S4 which comes with vanilla Android on it. What does that mean? Basically a version without all the extra software that Samsung load on to it before it arrives – or "bloat" as its known to us geeks.

But… I/O is rarely about announcing new gadgets (although they have used the platform to launch the various Nexus phones and tablets over the years, and last year "Google Glass"), instead it's about announcing what new things you'll be able to do with your gadgets, thanks to what Google's in-house geeks (or Googlers as they're known) have been up to.
So… he's some of the less geeky highlights so far:
900 million Android users
And "58 billion app downloads" – both figures designed to take the edge off Apple's upcoming announcements. But unfortunately for Google – these just won't get the same headlines. It's still very impressive though, and shows that this late addition to the market has not only managed to catch up pretty quickly – but is poised to overtake Apple's current "dominant" position any day now.
Games that stay in sync
Play games on your Android devices? (If no, skip down a bit) Well (soon) you can keep all your game play in sync – as in, complete a level, or increase your score, on one device – and it automatically syncs to all your other devices. OK, so some games already do this, but now it's been built into the Android operating system – it will be found on more and more games very soon!
A slightly more impressive "in sync"…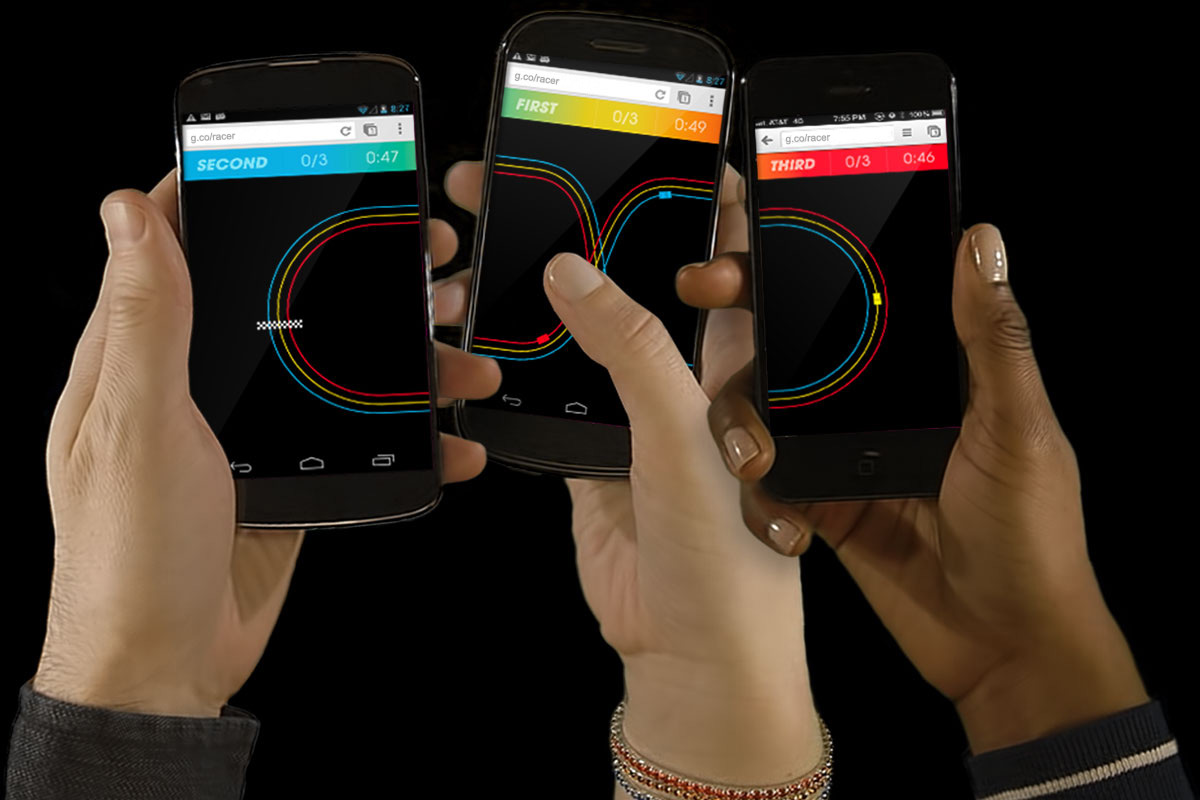 When you get 5 minutes check out http://www.chrome.com/racer in Google Chrome on your phone(s) – demonstrated live on stage, multiplayer gaming that span across devices. Too geeky? OK… let me show you (picture right).
So you have 3 phones, all next to each other, sharing a track across them, and all playing the same game, all through the internet in "realtime". OK… maybe it's still a little too geeky – but it shows you the power of what they're working on behind the scenes.
A little less geeky…
A brand new Google Maps.
How can a "map" be brand new? Well, starting soon, Google Maps will be "Google Maps +You".
You may not have noticed, but Google already customises your search results based on what it knows about you. The great example of this is searching for the word "Platform" on Google. If you're into your software development you'll get "Facebook Developer Platform", "Twitter Developer Platform" etc etc, if you're into shoes, you'll get "Platform Shoes", if you're into your trains – "Station Platforms"… you get the idea. This is gleaned from what sort of sites you visit, what you search for, the results you click in Google, and all sorts of other "Google Magic" behind the scenes. Spooky? Maybe. Making sure you get the best results for you? That's the aim!
So… now imagine that same power, but in maps? So when you're zooming in on downtown New York, it highlights coffee shops rather than shoe shops, and gadget stores rather than hairdressers. If your friend recommends a restaurant, that will show up on the map. More useful right? (and it also looks cool!)
And now the least geeky of them all…
Google Play Music "All Areas" – after lots of "how this will change your life" blurb from Google… they're launching their own version of Spotify (soon). I would love to say this is going to completely change how I listen to music and I'll drop Spotify tomorrow in favour of it. But, actually; it's only available in the US (but will be rolled out to other countries "soon") and will be charged at $9.99/month – so, not a real "game changer" unfortunately, and isn't quite enough to tempt me away from Spotify just yet.
Once I get a preview of it, I'll report back.
I'll keep an eye out for any other developments at Google I/O 2013, but for now – that's me all Googled out!